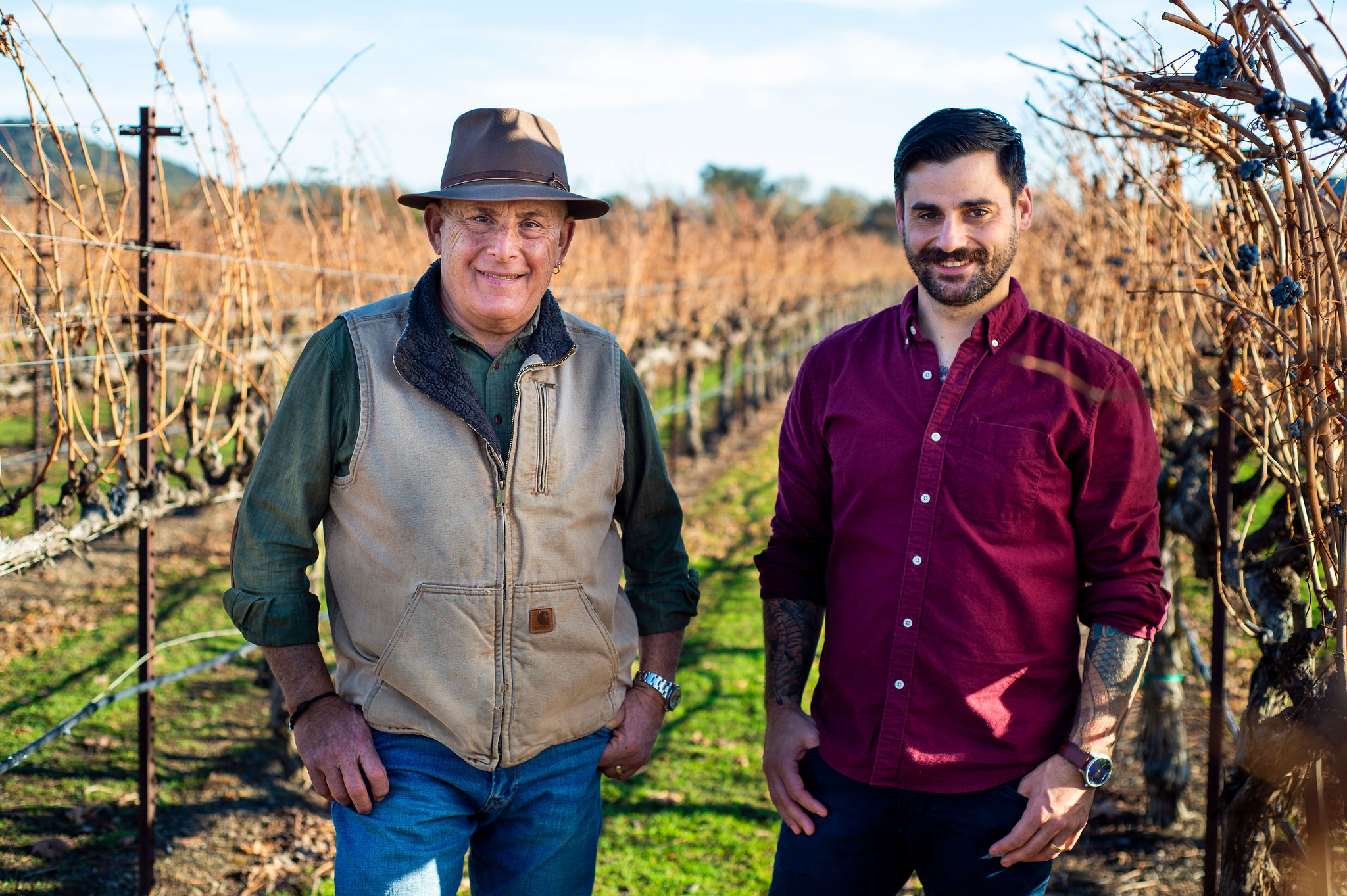 About Us
Daniel and Sam Baron bring a combined 60 years of grapegrowing and winemaking experience on three continents to their approach to making Complant wines.
We believe that wine is the expression of a human aesthetic and as such is best directed by an individual. Rather than compromise on decisions of taste and style, each of us takes charge of one of the wines. Sam is the champion of the Chardonnay and Daniel of the Cabernet. Since there should be an exception to every rule, we collaborate on the Pinot Noir. Our goal is to use artisanal practices and minimal intervention to produce delicious wines of vibrancy that seamlessly express time, place and the cultivated vine, the Complant.
---
Daniel Baron
Daniel Baron began his career in the early 1970s as a hippie vineyard worker in Knight's Valley, north of Calistoga. He was part of the early vineyard crew at Chateau Montelena in 1973 and then moved on to study with Dr. Harold Olmo at UC Davis. In 1978, Daniel moved to Philo, where, in addition to being one of the founding members of One Less Clown, he was vineyard manager and assistant winemaker at Navarro Vineyards. In 1981, he left California for France; his intended one-year sabbatical ultimately led to two vintages in the vineyards of Bordeaux. The year 1982 was spent living and working at Chateau Petrus, an experience that left an indelible mark not only on his winemaking, but on his no-doubt annoying habit of dressing like a French peasant. His association with Christian Moueix, then owner of Petrus, led him back to California and resulted in a 12-year stint at Dominus. From 1988 to 1993 Daniel was the managing partner of Salmon Creek Cellars, producing barrel fermented Carneros Chardonnay. In 1994 he accepted the winemaking position at Silver Oak Cellars, where he remained for 23 vintages. In 1999 Daniel helped found Twomey Cellars for the Duncan family and eventually retired in December 2016 as Director of Winemaking for both Silver Oak and Twomey. He returned to France in 2018/2019 where he was the first American to complete a Diploma in Pruning from the Université de Bordeaux. This was a return to his roots in many ways, not the least of which was an opportunity to replenish his wardrobe of peasant garb. In 2017, Daniel and his eldest son Sam began their own winemaking venture: Complant Wine.
Sam Baron
When Sam began his journey with wine he was young and foolhardy.  Since, he has traveled to lands and times not often seen by mortals. Flying upon the backs of Monarch butterflies striving for hidden winegrowing treasures and philosophies whispered by ancient spirits since erased from history. His now wizened visage is but one cost paid for this forbidden learning. Nobody knows what else he gave to receive this knowledge, coveted by the allmother, but he has not been the same since he returned. 
We would love for you to join our journey!
Sign up for the Allocation List to get access to Complant wines.